Compton DVOR navigation beacon
08 March 2012 15:10 | Comments: 0 |
Categories:
This mystery object is the Compton DVOR navigation beacon.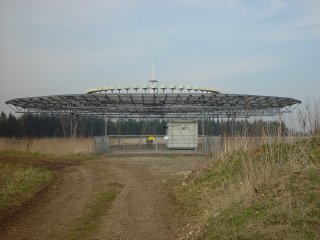 A what? Find out here.
And a picture of the beacon here with photos of the airstrip.
There are more beacon photos here.
"Compton DVOR aircraft navigation beacon, Haws Farm Hampstead Norreys (Hampstead Norris). This is the site of a old RAF WW2 airfield. Now mainly returned to arable farmland it still has one grass runway which is used by a couple of aircraft through out the day."